Any business person worth his or her salt is a voracious reader. Books are an inexpensive way to learn new skills, get new ideas, and stay on top of your industry without leaving the office. No need to dress up, drive across town (or across country) to attend an expensive workshop. And if you missed something or didn't understand it, you can turn back a page and reread it.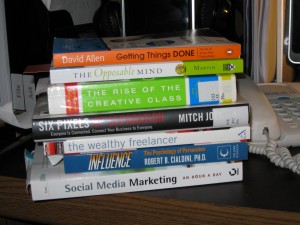 And I love books. Forget shoes, for me there's nothing better than wandering the isles of a good bookstore. It might even rival a computer store for pure fun factor.
There's nothing more exciting than having $100 to spend on books. Even a spare $20 gets me going. You can't get anything really exciting at the computer store for 20 bucks.
But there's a downside to my love of books. There's so much to do and so much to learn. I just can't keep up.
The photo attached to this article is my current stack of non-fiction reading. Each of these books is on the go. Only two are library books. The rest I picked up somewhere along the way. And yes, I understand the irony of having Getting Things Done be one of the books I haven't quite managed to finish.
These are all great books. I'm enjoying the read but I'm not getting through them. One of the library books has already been renewed once. I just spend so much time reading – emails, RSS feeds, websites, my own work – that I just can't bring myself to read non-fiction for long periods of time.
Hence the stack of on-the-go books.
However, I have discovered a secret to getting through books faster. Read More→