In yesterday's post I talked about Open Networkers and Selective Connectors. If someone is obviously an Open Networker, feel free to send them an invitation to connect, even if you don't know each other.
But what if they're a Selective Connector or you're not sure? How do you get connected without offending them or getting in trouble with LinkedIn?
Get Introduced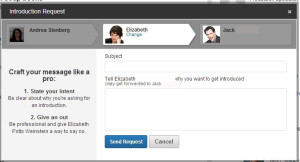 When you look at someone's profile on LinkedIn, lower down on the right-hand side, LinkedIn tells you exactly how you're connected.
If you're not 1st degree connections (directly connected to each other) LinkedIn will tell you who in your network is also connected to the person you want to know. Read More→