Many people already know they can link their Twitter updates with their Facebook status updates – whenever you post a Tweet on Twitter it also updates your Facebook status. This can be a great time saver – you can update two social media sites for the price of one.
But what about your Facebook page?
If you have a Facebook fan page for your business you may be adding unique content to the page to encourage people to become fans and thus increase their connection with you. To spread the word, you'll want to let everyone know about new content.
This is where Facebook's new feature comes in. By going to www.Facebook.com/twitter while you are logged into your Facebook account, you'll be able to easily set up your Facebook page(s) to automatically publish to Twitter.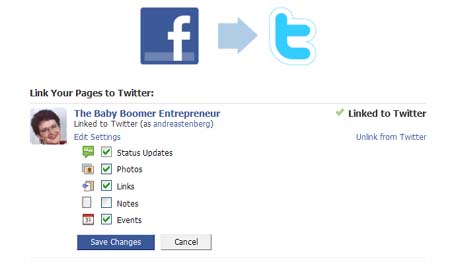 If you already have your status updates linked to Twitter you'll just need to select which fan page you want connected. You'll be taken to a Twitter page asking you to confirm that you want to link your Facebook page with Twitter.
Then simply check the box beside the  items you want published to Twitter: status updates, links, photos, notes, events or everything.
Once you're done, whenever you add something new to your page it will automatically be sent out via Twitter.
If you have multiple Fan pages you can link all of them, even using different Twitter accounts.
This is a simple and easy way to increase your reach without increasing your workload.
Andrea J. Stenberg
Want to connect with me on Facebook? Check out