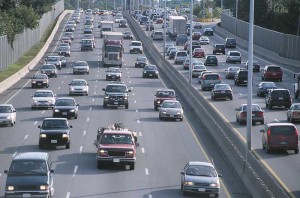 This past week I spent more time in the car than in front of the computer. For someone whose commute is usually 8 feet across the hall (often done wearing pjs and slippers) this was a stressful time for me.
I had to go to Toronto twice, including a there, back and there again in 24 hours. I like the city but driving that often, in a heatwave, is not my idea of fun. I hate rush hour here in Owen Sound, and it usually only lasts 15 minutes.
And to top it off, I didn't even get to do anything fun. One trip to the airport and back to pick up the boys.  Then the very next day I had to make another trip to help my sister recover from surgery (she's fine by the way).
But now that I'm back to what counts as normal for me I'm posting this week's Blogging Boomers Carnival. The hosts this time around are the Glam Gals over at Fabulous After 40. There are some interesting posts including a discussion about the flight attendant who lost it last week, boomer caregivers, what to wear to a summer wedding and more.
As always, please visit the carnival, read the posts and feel free to leave comments. Agree, disagree or add your own thoughts and experiences. After all, blogs are more interesting (and more fun) when people start talking.
Andrea J. Stenberg